Here's a bunch of BEKERBOT items - cheap and great.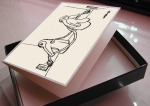 A set of BEKERBOT Greeting Cards
12 of Beker's favorite BOTS with matching envelopes. Perfect for someone with an arch sense of retro-humor . . .
The Official BEKERBOT Shirt (of course, there's
always
a T-shirt)
Plaster a BOT on your Abs and tell the world you're 30 years behind the times - and proud of it. Choose from several of your favorites.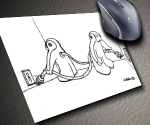 The Official BEKERBOT Mouse Pad
Now here's some irony. A 1970s drawing about computers-gone-psycho on your mouse pad under your $200 uber-tech laser GPS-enabled mouse. Gad! A walking confluence of two universes. A true must-have . . .
NOTE: If you want a unique signed BOT item, please click SIGNED COPIES above.
Copyright 1970 - 2011 George Beker. All Rights Reserved